The CUHF Practice Stream
Council on the Uncertain Human Future
As the foundation of our work, the Council on the Uncertain Human Future (CUHF) is conducted through the practice of Council—an intentional conversation based on an arc of questions. We begin by slowing into presence. We call forward the societal and political context in which we gather, and acknowledge the planetary changes underway and the human behaviors that led to them. As we speak into the consequences and implications for all living beings, together we explore how we might live now, given what we have come to see and know.
Once held only in person, Councils now take place on Zoom, in person, and in a range of hybrid forms. The online practice meets in five two-hour sessions, usually weekly. Guidelines for Zoom in the spirit of Council support the online work. Visioning sessions are held at the end of the Council round in most cases.
To learn more about the nature of the experience:
EXPLORE OUR CUHF INTENTIONS
THE PRACTICE OF COUNCIL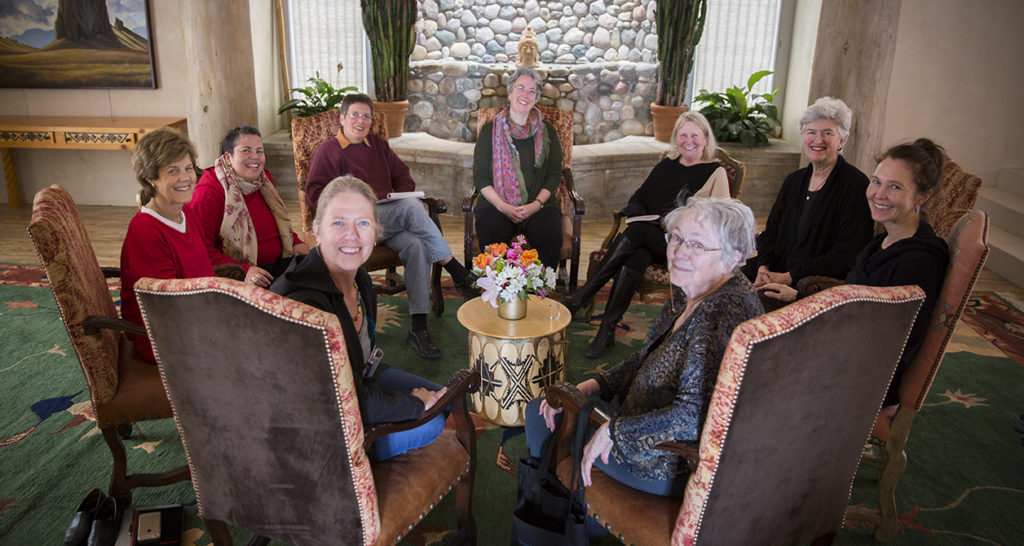 Council in this Time of Reckoning
The Council in this time of reckoning (CITR) arose in response to the intersection of racism, ecocide, pandemic and rising authoritarianism made more apparent by the murder of George Floyd in May 2020. The CITR is now the opening two-hour session of the full Council on the Uncertain Human Future; it is also offered independently.
The Council for these COVID-19 times took place from March to June 2020 as the pandemic surfaced, and laid the groundwork for the Council in this time of reckoning.
Related Readers:
READER FOR THIS TIME OF RECKONING
READER FOR THESE COVID-19 TIMES
CUHF Root Council
The Root Council invites a deeper view for those who have participated in the full CUHF. Drawing on that experience, we site ourselves within a longer planetary perspective, one based on the interdependence of all living systems on Earth and beyond. Taking that in, we ask how do we understand being human within this larger view? How might we enter / re-join the larger community of life? What matters now?
Steady Councils
Many CUHF groups wish to stay in community and ongoing conversation, and become Steady Councils. Led by anchor teams from the group, they draw on agendas and resources from the larger project, and/or develop their own.
Current Steady Councils:
NATIONAL   |   SANTA FE   |   BAY AREA   |   ECO-SATTVA
MIT   |   RANDO PARTNERSHIP   |   JOURNALISTS AND WRITERS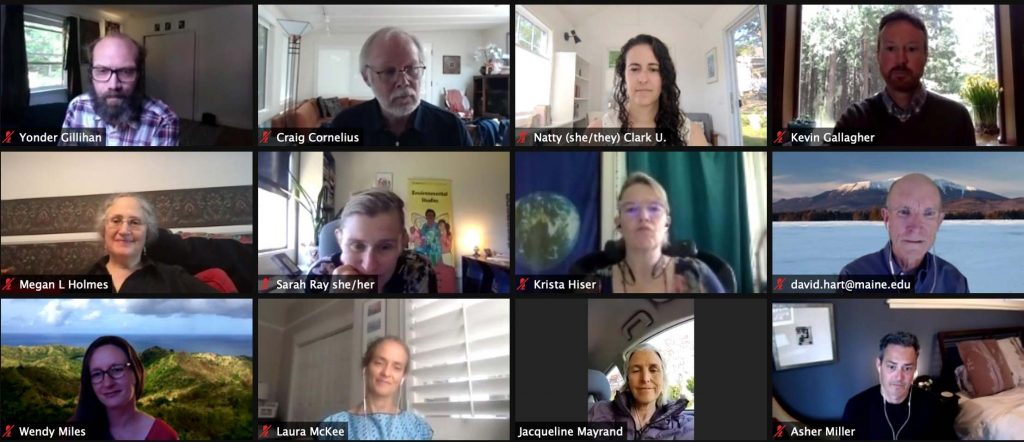 CUHF International Zoom Events
CUHF International Zoom events enrich the questions and concerns of the Council on the Uncertain Human Future, and further community among members. They feature conversation partners around topics or a film, followed by breakout Council circles.
Explore past events:
CUHF INTERNATIONAL ZOOM EVENT ARCHIVE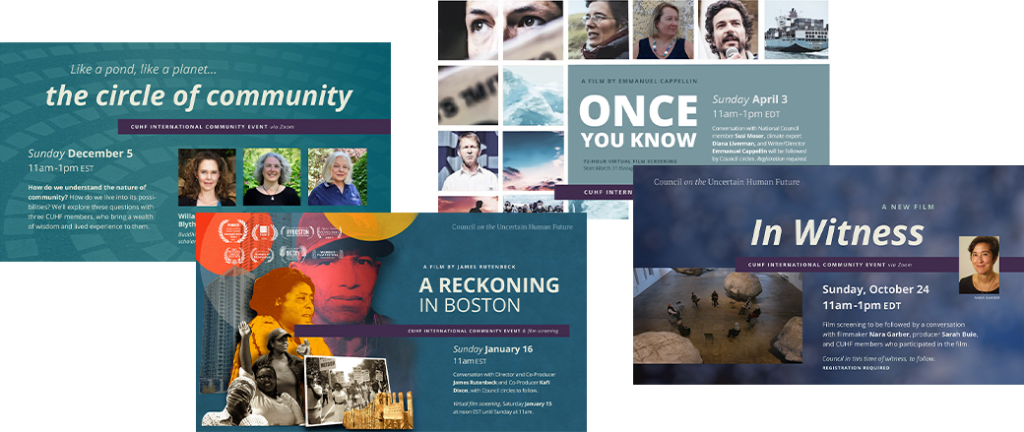 CUHF Seedbed
The CUHF Seedbed is an inventory of the activities, projects, and work undertaken by our members; a portal through which CUHF members may link to new possibilities, opportunities, activities and each other. Explore the Seedbed, here.