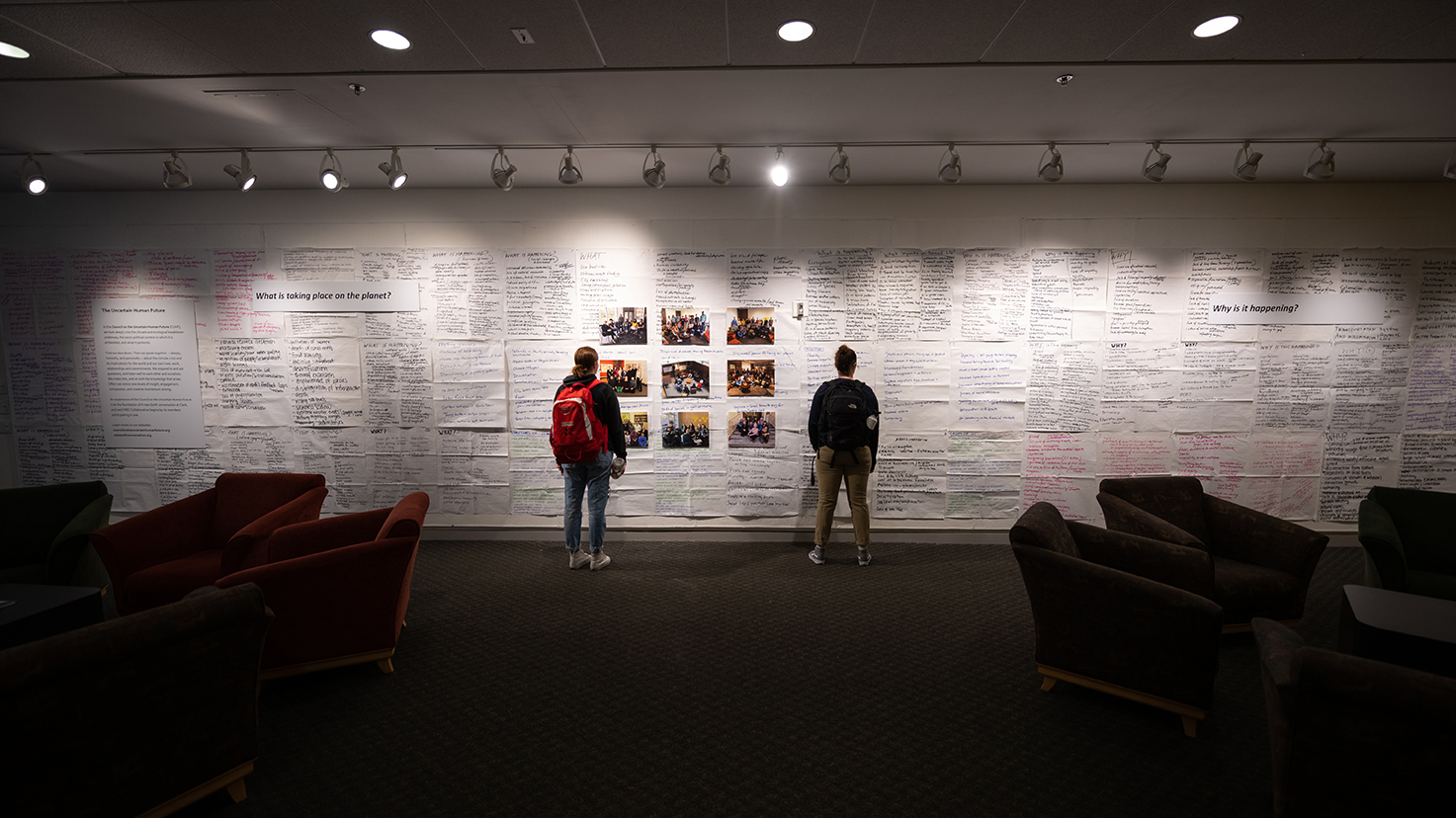 The Uncertain Human Future
This spring, Clark University is hosting The Uncertain Human Future, a participatory exhibit that encourages a deeper examination of the questions posed in Council:
What is taking place on the planet?
Why is it happening?
And given what we know, how do we live now?
This exhibition invites visitors to slow down, reflect, and add their own thoughts to the ideas and questions on display.
"So many of us, including a great number of faculty, staff, and students here at Clark, are looking at the truth of what's happening, staying with it and asking what it means; I hope you can experience that through the documentation here," says Sarah Buie, professor emerita and research scholar at Clark's Department of Visual and Performing Arts, and founding convener of CUHF. Working with NEC Fellow Dimitri Koufis '22, and CUHF/NEC Assistant Director Michelle Sayles, Buie curated the exhibit as another way of inviting the Clark community to join the NEC and CUHF work underway.
The walls of the exhibit are covered with handwritten materials from past CUHF Council meetings — including lists of reflections about what's taking place on the planet, symptoms of the climate crisis, and ideas about why it's happening. Photographs of Council groups are included, along with videos featuring Council groups and members.
---
Reflecting on the exhibit and his own assessment of the challenges facing us at this time, Clark undergraduate and NEC Fellow Dimitri Koufis shared this hope for the installation:
The climate crisis goes far beyond CO2 levels; we are in a time of ecological, social, and economic crisis, and these are deeply intertwined. 'Addressing' these crises takes a broader lens than we are used to. I hope this exhibit can give anyone engaging with the material a glimpse of the intertwined nature of the climate crisis and the opportunity for unconventional thinking in addressing any and all concerns posed in the exhibit.
Read our feature story in ClarkNow to learn more about the exhibit. You can visit this installation in-person through the end of March in Clark's Traina Center for the Arts.