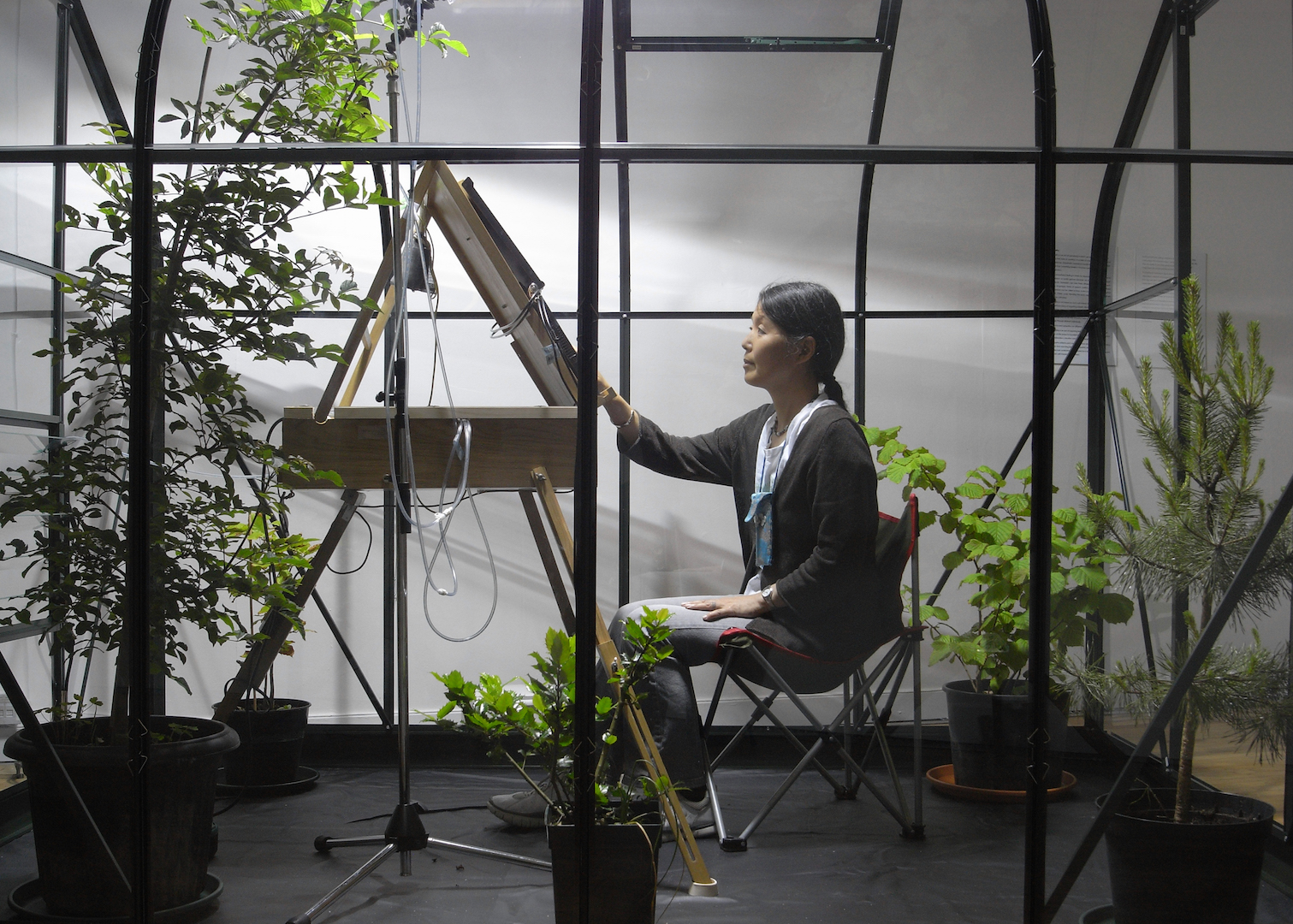 On Trees and Forest Futures
In her work, Edinburgh Council member and socially-engaged artist Reiko Goto contemplates our relationship with the natural world. Collaborating on projects that examine the agency and cultural significance of nature, she turns to the tree as a primary subject exposing nature's sentience and encouraging us to see natural space as deserving of our empathy and protection.
In a recent project, Plein Air: Southern Appalachian Forest, she makes audible the metaphorical breath of a tree, encouraging us to embrace the agency of this living being, and evolve in our perception of how we relate to non-human life. Reiko Goto and Tim Collins share their intentions for the work:
Our interest in Plein Air began by thinking about carbon exchange. The project is about one leaf, one tree. Goto and Collins have worked with a team of scientists, technologists and musicians to construct a hand-crafted box easel for the 21st Century. The goal was to reveal the breath of a tree with the intention to explore the empathic interrelationship we might have with trees. The work integrates aesthetics, ethics and awareness in the pursuit of a better understanding of the limitations of people-plant and culture-nature relationships. The artwork provides an experiential interface to an important but relatively invisible aspect of carbon sequestration.
The experience produced by Plein Air, mediated by sensors and software, lets us hear a metaphor, a sound of one leaf / one tree breathing. Does our sense of moral duty change as we listen?
Goto also collaborated on a visionary culture and ecology initiative titled The Black Wood of Ranoch: Future Forest, which was recently highlighted as a featured project in the Library of Creative Sustainability:
Artists Tim Collins and Reiko Goto collaborated with Forest Research and others to produce a body of work that explored how to reclaim and restore a lost cultural, aesthetic, or spiritual relationship with Scotland's ancient forests and the conflicts that human interest and public access posed to forest managers and regulators concerned with biodiversity and conservation. The project sought to interrogate whether it is sustainable to manage the handful of expansive ancient forests in Scotland as scientific sanctuaries apart from culture.
Visit the Project Website to learn more about this initiative, and read more about her work.