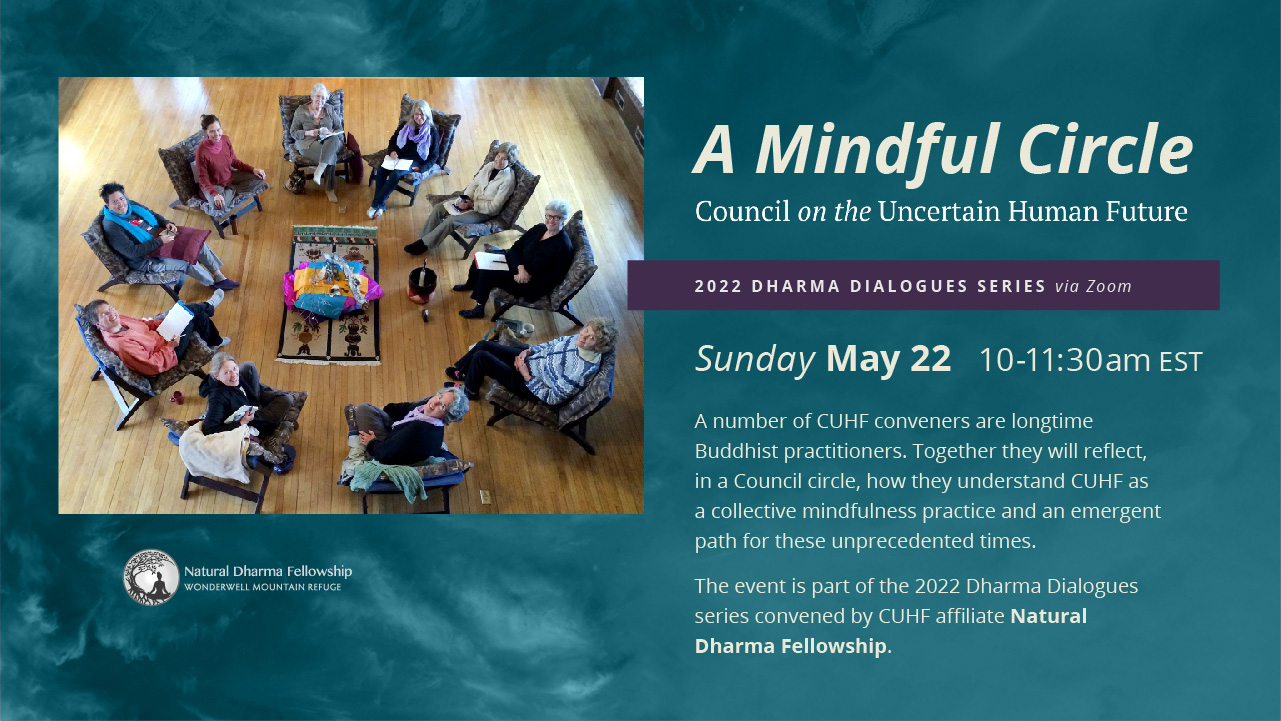 A Mindful Circle
A number of CUHF conveners are longtime Buddhist practitioners. On Sunday, May 22, they came together via Zoom to reflect, in a Council circle, how they understand the Council on the Uncertain Human Future as a collective mindfulness practice and an emergent path for these unprecedented times.
The event was co-convened with CUHF affiliate Natural Dharma Fellowship as part of their 2022 Dharma Dialogues series EcoSattvas in the Anthropocene: Buddhist responses to climate change—a year-long series of monthly conversations that bring speakers into dialogue about our experience of, and engagement with, mindful living in this era.
Joining CUHF Founding Convener Sarah Buie, was CUHF Co-Founder Diana Chapman Walsh, Core Team members Kevin Gallagher and Melissa Hoffer, National Council member Lama Willa Baker, and National Conveners Barbara Waldorf and John Bailes.
Our International CUHF series continues in Fall 2022. More details will be released soon.
About the speakers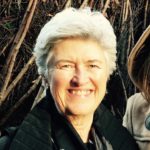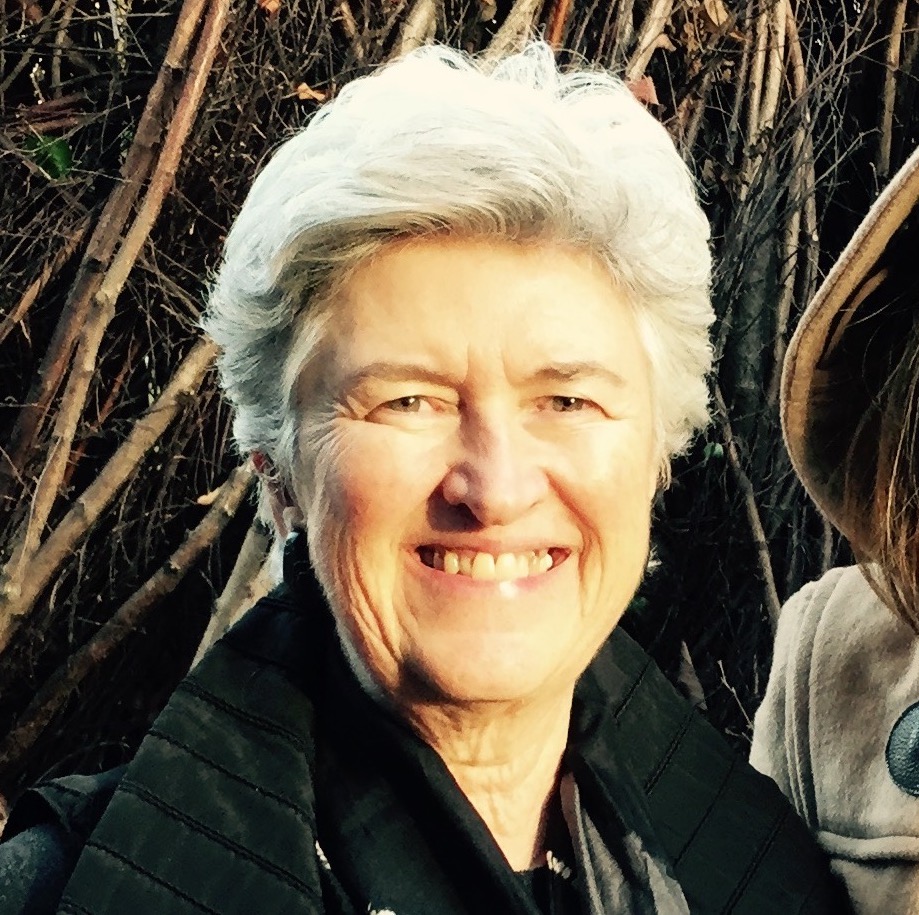 Sarah Buie
Sarah Buie is a designer/educator who encourages deeper collective, comprehensive awakening to our situation within our planetary ecosystem. She is Founding Convener of the Council on the Uncertain Human Future, and the campus-wide climate curriculum initiative A new Earth conversation at Clark University. She is Professor Emerita and Research Scholar at Clark, where she served as Director of the Higgins School of Humanities and its Difficult Dialogues initiative; major grants from Ford, Mellon, and Kaiser Family Foundations were received during her tenure. She is also an award-winning museum exhibition designer.
John Bailes
CUHF National Convener, John Bailes, is a Buddhist Priest whose life and teaching activities have basically become the conversation we hold in Council. He is the Buddhist Chaplain at Wellesley and Amherst Colleges, the Founder and President of One Heart Zen, and the Guiding Teacher of the Monmouth Zen Circle.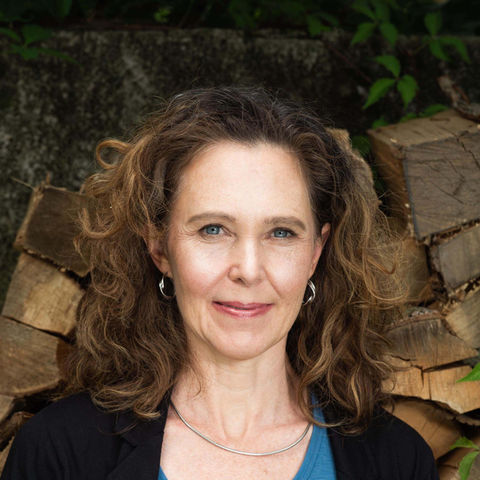 Willa Blythe Baker
Willa is a Buddhist teacher, scholar and writer, and the founder and spiritual director of Natural Dharma Fellowship and its retreat center Wonderwell Mountain Refuge, both of which gather a full community or sangha. She is a lineage holder in the Kagyu lineage of Tibetan Buddhism, holds a PhD in Religion from Harvard, and has written several books and numerous articles. Willa is a member of the CUHF National Council, first convened in 2014.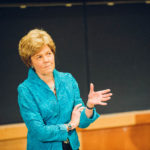 Diana Chapman Walsh
Diana Chapman Walsh served as the President of Wellesley College for fourteen years; her presidency was characterized by her collaborative leadership style, innovations in curriculum, campus expansion and successful fund-raising. She was the Norman Professor at the Harvard School of Public Health and chair of the Department of Health and Social Behavior prior to her presidency. She has written, edited and co-edited twelve books on both healthcare and education topics, and a seminal essay on Trustworthy Leadership published by the Fetzer Institute. Until recently, she served on the governing boards of the Mind and Life Institute, the MIT Corporation (and its executive committee), and the Kaiser Family Foundation.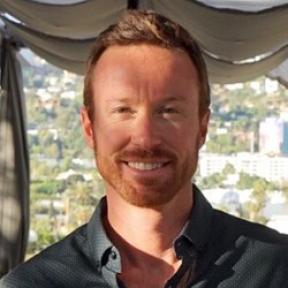 Kevin Gallagher
Kevin Gallagher (JD/MA) is an attorney, author, and facilitator. He is the Director of Emergent Resilience, a 501(c)(3) non-profit organization that helps government agencies, private organizations, academic institutions, and individuals build resilience for a climate changing world. Kevin previously worked as a climate change law and policy attorney in Washington, D.C. and as a Peace Fellow with the Public International Law & Policy Group, where he advised state and sub-state entities in post conflict areas on international peace building issues. He has a Masters degree in International Affairs and has trained with the Sati Center for Buddhist Studies, the Center for Council, and the School of Lost Borders. He is the author of Hike The World, a guide book to the planet's best long-distance hiking trails, and the forthcoming Emergent Resilience, an exploration of the psychosocial dimensions of a climate changed world. Kevin is a member of the CUHF Core Team.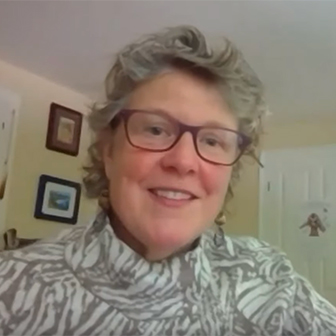 Melissa Hoffer
CUHF Core Team member, Melissa Hoffer, is an attorney specializing in environmental law. She currently serves as Principal Deputy General Counsel and interim Acting General Counsel in the EPA Office of General Counsel. She previously served as the chief of the Energy & Environment Bureau in the Massachusetts Attorney General's Office (AGO). Melissa was responsible for overseeing the AGO's work to enforce environmental laws, protect ratepayer interests, and support federal regulations addressing emissions of mercury, air toxins, and greenhouse gases.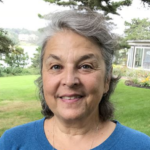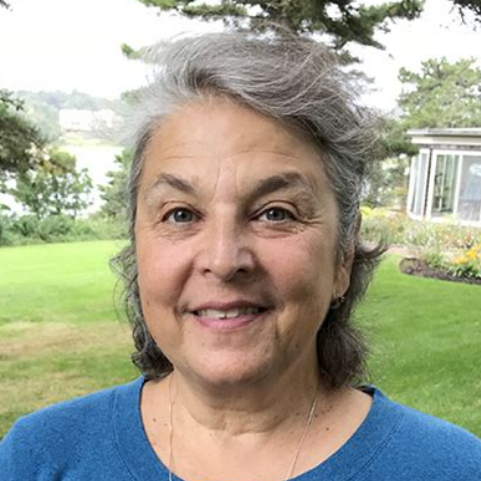 Barbara Waldorf
Barbara Waldorf (BSN, MPH) is a professional nurse with thirty years of domestic and international experience in pediatric and psychiatric nursing, as well as in teaching public health and nursing. As a long time meditator, her interests include teaching and designing contemplative care retreats for health workers and those working with the dying, as well as researching how compassion meditation can be incorporated into training health care workers. She is the Managing Director at Natural Dharma Fellowship and is a CUHF National Convener.